Who are we?
Hillbark Players is the leading presenter of open-air Shakespeare in the North West. The Company was founded in 1964 to celebrate the 400th anniversary of Shakespeare's birth and apart from a short break in the early 1970's, Hillbark Players has presented a production every other year since.
2023 was our 29th major production.
Our major productions are always presented in a traditional way and the best local talent is sought, both to perform and to provide technical support.  A purpose-built 510 seat theatre is created in Royden Park, Frankby - a public park just outside West Kirby on the Wirral. Theatre quality lighting is installed and all seats are under cover - it is only the actors who get wet - occasionally!  
On alternate years we sometimes present a smaller scale revue-style production where the audience need to bring a seat, a picnic and maybe an umbrella.
The most frequently used adjective to describe the full Hillbark experience is 'magical' and in June 2025 we will be delighted to share this magic with you once again.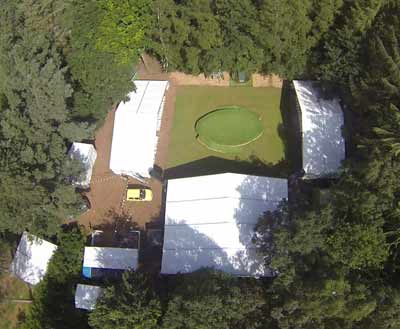 An aerial view of our arena - taken in June 2019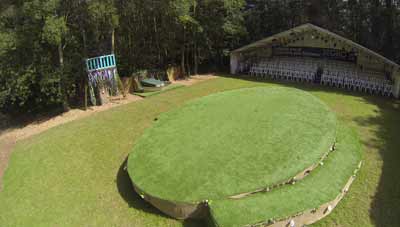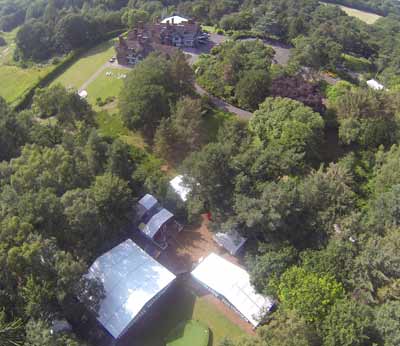 An aerial view of our arena, showing Hillbark Hotel
in the background - taken in June 2019
Past Productions
2019 - A Midsummer Night's Dream
2018 - Shakespeare at War and Peace
2016 - Shakespeare's Midsummer Madness
2012 - From Shakespeare With Love
2011 - The Merry Wives of Windsor
2005 - The Taming of the Shrew
2001 - A Midsummer Night's Dream
1992 - The Merry Wives of Windsor
1980 - Two Gentlemen of Verona
1978 - A Midsummer Night's Dream
1967 - The Merry Wives of Windsor
1966 - The Taming of the Shrew
1960 - A Midsummer Night's Dream
- from the forerunners of Hillbark Players