'The Merchant of Venice' was also presented in 1986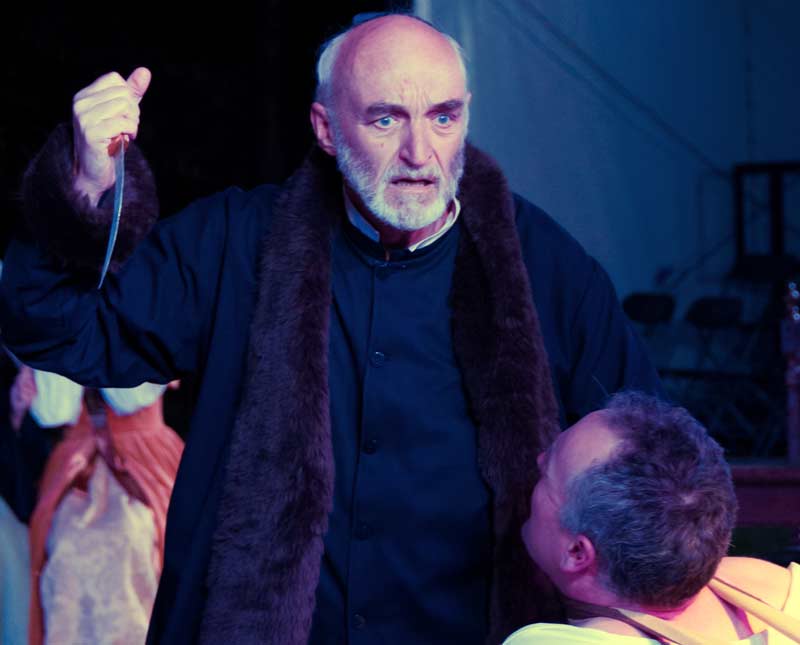 Shylock and Antonio
Dates & Location
Monday 24th June - Saturday 29th June 2013
Evenings at 8pm - Saturday matinee at 2.30pm

Venue
Royden Park, Frankby,Wirral
Tickets
Tickets were on sale from the Floral Pavilion, New Brighton

| Day | Stands A & C | Stands A & C | Stand B |
| --- | --- | --- | --- |
| Monday, Tuesday | £10.00 | £12.50 | £15.00 |
| Wednesday, Thursday | £14.00 | £16.00 | £18.00 |
| Friday, Saturday Evening | £16.00 | £18.00 | £20.00 |
| Saturday Matinee | £10.00 | £12.50 | £15.00 |
Monday and Tuesday Special Offer
Book an Adult and an Under 16 ticket in certain seats in Stands A or C and save £5.00.
( the Floral website will indicate which seats are in the offer )

VIP Package available in Stand B - for just an additional £15 per ticket
( the Floral website will indicate which seats have been reserved for the offer )
These must be pre-booked and will not be available on the door.

" With the best seats in the house, a complimentary programme, indulge in Cava and canapés
(strawberries and cream will be served for the Saturday matinee) in our VIP tent served by
waitresses and waiters; or simply treat your family to an outing they'll never forget.
Whatever the occasion, our VIP Experiences will make you feel centre-stage"
The plot
For Bassanio to win the love of beautiful heiress Portia, he arranges to borrow money for his quest from his friend, the merchant Antonio.

In turn, Antonio arranges a short-term loan from his long-time adversary, Shylock. When Antonio's trading ships are lost at sea, and he finds that he is unable to re-pay his debt, the bitterly vengeful creditor demands his gruesome forfeit: a pound of Antonio's flesh.
.
To save Antonio's life, the resourceful Portia must triumph in the courtroom — but at what cost? The Merchant of Venice weaves together multiple love stories and broad humour with compelling drama in this riveting play.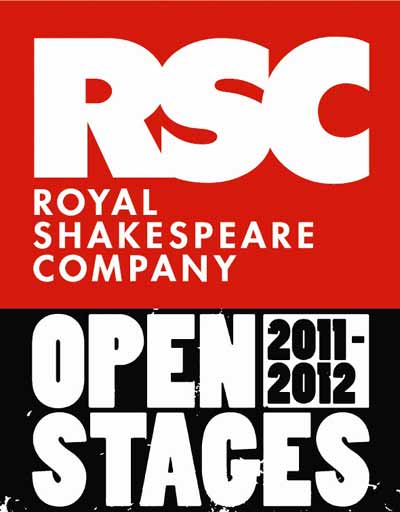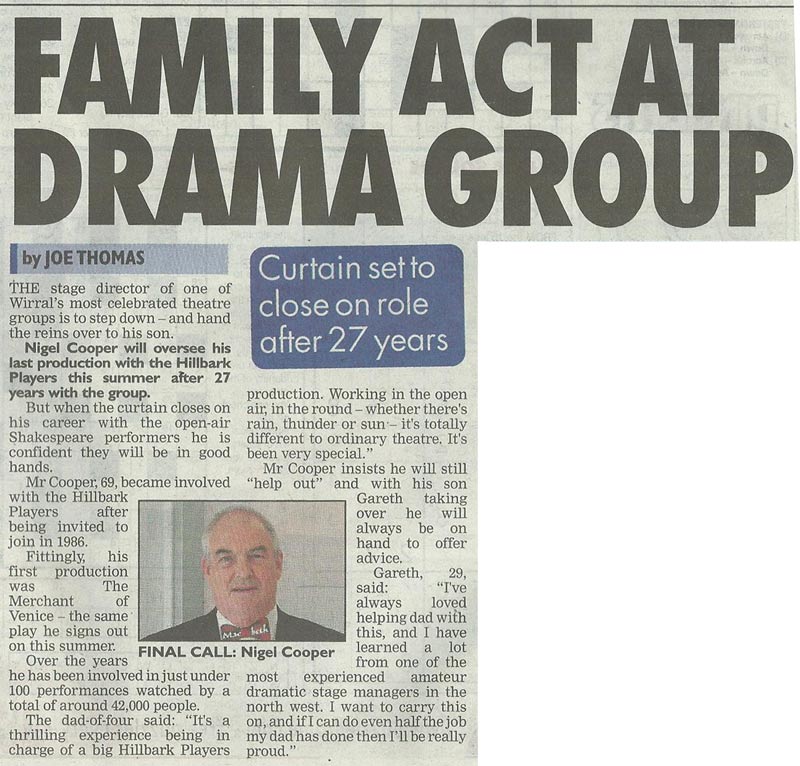 Hillbark Players' stage manager bows out after 27 years
Thursday 30th May 2013 in Wirral News by Craig Manning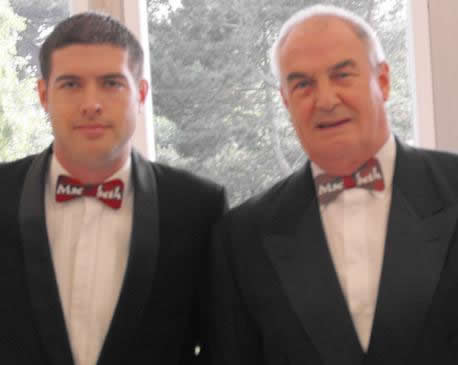 Nigel Cooper, right, and son Gareth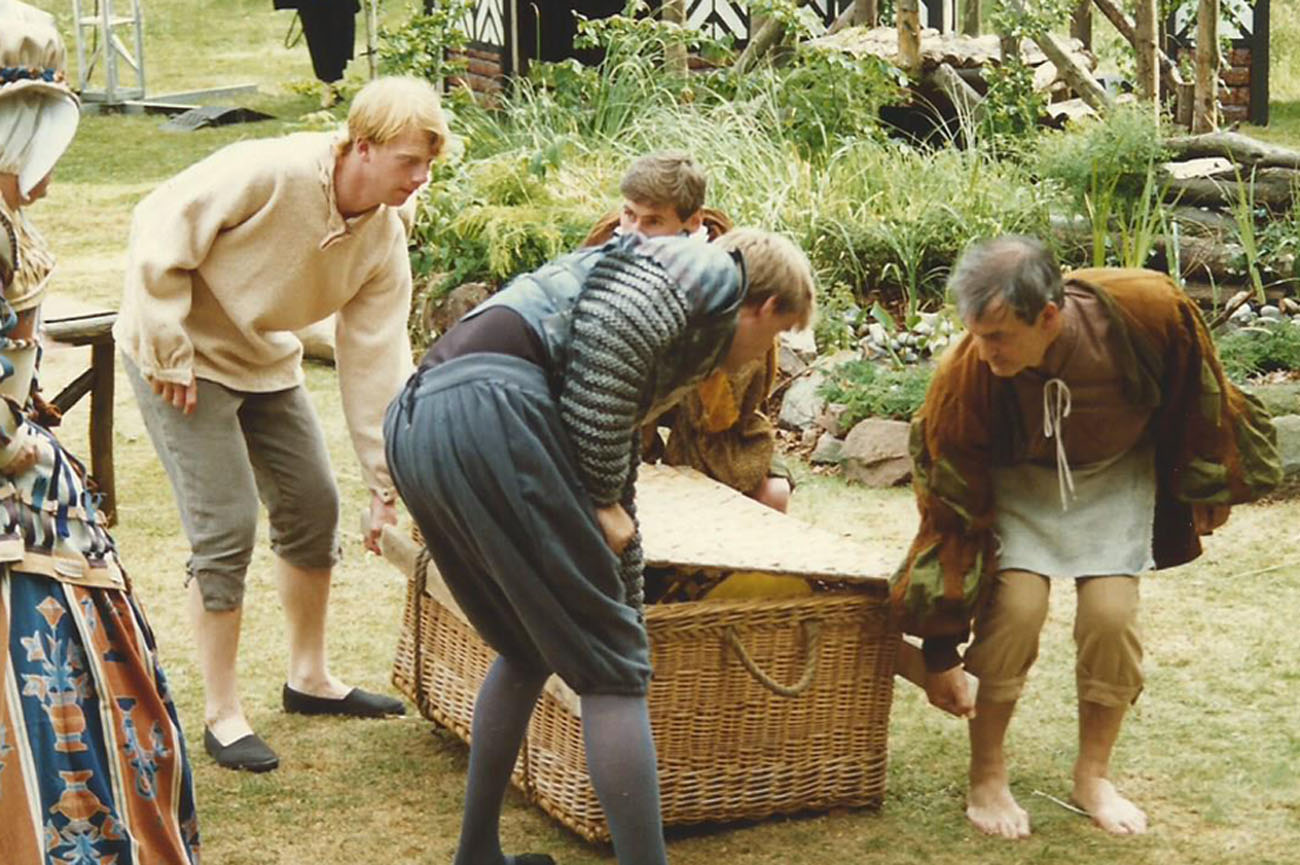 Nigel (pictured, far right) in costume is taken at 1992 during a production of The Merry Wives of Windsor.

THE stage manager of Wirral's famous Hillbark Players open-air theatre group is to bow out after more than a quarter of a century in the role. Nigel Cooper originally only took up the job for one year, but after nearly 100 performances in front of 42,000 people, the 69-year-old is handing over to younger son Gareth. The players, Wirral's only outdoor Shakespeare company, perform The Merchant of Venice in Royden Park, Frankby, from June 24 to 29.
One of the Bard's most gripping plays it is a tale of mercy and justice, generosity and greed which features one of his most complex characters - Shylock the moneylender.
Coincidentally it is the same play that Nigel, a former senior lecturer at Wirral Metropolitan College and father of four, first worked on in 1986. Looking back on his time in the job, Upton-based Nigel told the Globe: "It's a thrilling experience being in charge of a big Hillbark Players production. Working in the open air, in the round - whether there's rain, thunder or sun - it's totally different to ordinary theatre. It's been very special."

The players, formed in 1964 to celebrate the four hundredth anniversary of Shakespeare's birth, have enjoyed sell-out performances in their two-yearly productions. Celebrities associated with the Players include their former patron, Hoylake-born Glenda Jackson, and former Dr Who actress, the late Elisabeth Sladen, who played the timetraveller's sidekick Sarah Jane Smith. She was the star of the Players' first ever production Much Ado About Nothing.

Upton-based Nigel, who is originally from Herefordshire but has lived in Wirral for 45 years, stepped into help when Carlton Players' director Henry McDowell asked him to get involved.
His long-standing association with Hillbark is in fact an extraordinary family affair. Wife Carys, a former drama teacher, has appeared in five productions, and his older daughter Glenda appeared in three. Nigel said: "Wirral people have great affection for Hillbark. One of my favourite memories is building the shipwreck for The Tempest in 1988.
"A bin lorry went past and one of the bin men stuck his head out of the window and shouted 'That'll sink when you take it to West Kirby marina, you know.'

"Stepping down as stage manager means I'm handing over responsibility for actually running the show but I'll still help out back stage - I don't see my contribution to Hillbark as finishing." Son Gareth runs his own Wirral-based accountancy business and acts as the Players' treasurer. Looking forward to stepping into his father's shoes, he said: "Hillbark has been a big part of our family life. "I've always loved helping dad with this, and I have learnt a lot from one of the most experienced amateur dramatic stage managers in the northwest.
"I want to carry this on, and if I can do even half the job my dad has done then I'll be really proud."
Tickets for Merchant Of Venice are from the Floral Pavilion box office on 666 0000.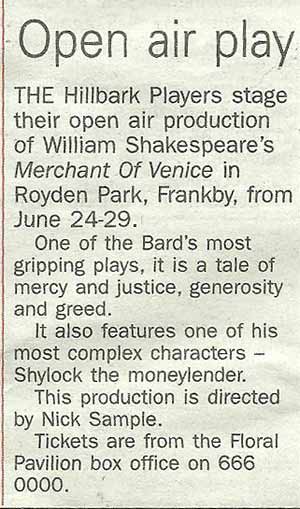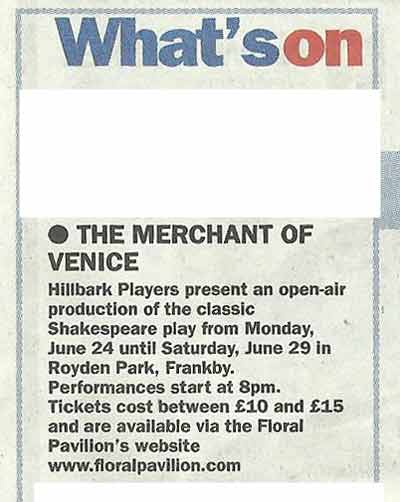 Chester - What's On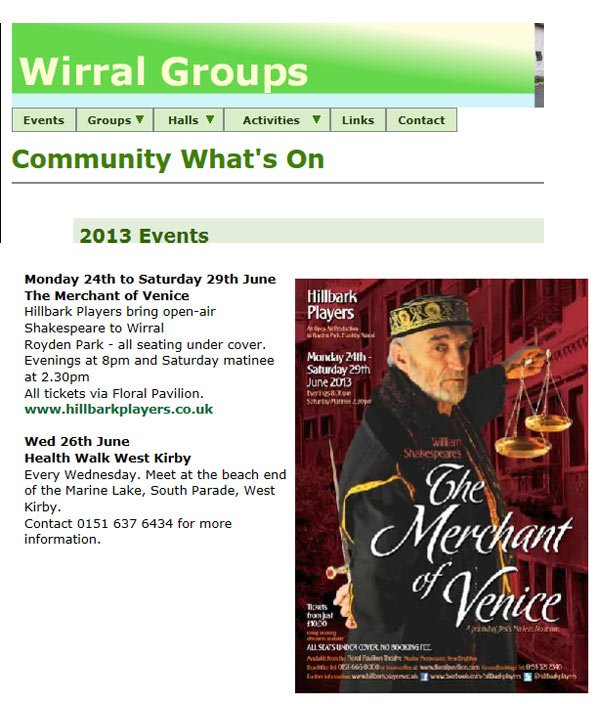 E-Flyer from Floral Pavilion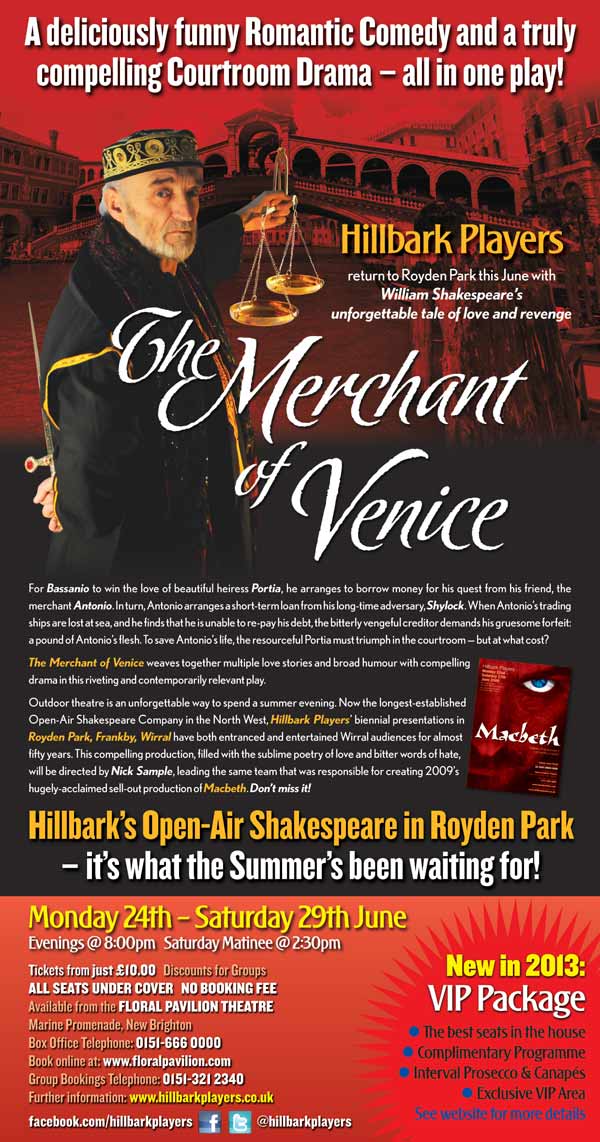 With Esther McVey MP in Coronation Gardens, West Kirby on a cold May Bank Holiday Monday
( l-r Skander Khayati, Mike Ellis, Julie Khayati, Esther McVey, James Kay, Caroline Kay )

**************************************************************************************************************************************************************************
Chester Culture
Giving Chester's arts & culture scene some much needed love & the occasional hug
The Hillbark Players
Posted on June 19, 2013 by Andy Tabernacle
I will be attending my very first theatre preview this Sunday. The Hillbark Players have kindly invited me to attend the preview of the Merchant of Venice. Here's a bit of background. I'll write about the experience on Monday.
The Hillbark Players was formed in 1964 to celebrate the 400th anniversary of Shakespeare's birth. The intention of the founders was to perform Shakespeare in the open-air, but for the audience all to be under cover – only the actors would brave the elements.  To do this they created a theatre in the grounds of Hillbark House, Frankby, Wirral. They would use theatre-style lighting, authentic costumes and present traditional Shakespeare, using the best amateur talent around – both in acting, technical, costume etc.  The first play was 'Much Ado about Nothing' and we now present our production biennially – 2013 will be our 24th production and
we have chosen to present 'The Merchant of Venice' from Monday 24th to Saturday 29th June – evenings at 8pm and Saturday matinée at 2.30pm.
Hillbark House has now become the prestigious Hillbark Hotel and Spa and we perform just outside the grounds of the Hotel in the adjoining Royden Park.  We keep faith with the vision of the founders and still build a theatre with all seats under cover.
This year, the production is costing £41, 000 to stage and we are entirely self-funding.  We get no sponsorship of any sort (despite our best efforts).  Tickets are priced £10-£20 and are only available via the Floral Pavilion New Brighton – on-line, in person or by phone 0151-666-0000
**************************************************************************************************************************************************************************
The Merchant of Venice review (of sorts)
Posted on June 24, 2013 by Andy Tabernacle
Here's a quick review I knocked up after my trip to watch the Merchant of Venice yesterday. I'm no critic, just a man who likes to tickle the keyboard and spread a little culture love, but I hope you enjoy it nonetheless. Many thanks to Stuart Rathe for the invitation.
Last night, I had the great pleasure of attending the preview of the Merchant of Venice by Hillbark Players. The open-air venue made for a tempestuous evening, full of high drama and equally high winds…
For those that don't know, this is a story of friendship, love and revenge, set in the historical city of Venice.  Antonio, the said merchant, agrees to lend his friend Bassanio a bag of cash so that he can court the radiant heiress, Portia.  As all Antonio's ships are at sea – which will now become my euphemism for being broke – he must approach a moneylender, Shylock, for the dough.  Unfortunately for Antonio, Shylock bears him a grudge – he takes exception to Antonio's loutish anti-semitism – and tricks him into forfeiting a pound of his flesh if he cannot pay on time.  Meanwhile, Portia is learning to live with the bizarre terms of her father's will.  These decree that she can only marry the man who correctly chooses the box – either gold, silver or lead – which contains her portrait.  It's like Deal or No Deal, but with fewer boxes, less cash and with a lady's hand (and heart) at stake.  As we follow the progress of Portia's suitors, we discover that pirates have seized Antonio's ships leading to a tense finale where the implacable Shylock demands his *pound of flesh*.  That's enough about the story, let's turn to the performance.
The performance was very stimulating, full of energy and honesty.  The staging worked very well and the outdoor arena gave the players ample room to work their magic.  The language took a little getting used to, especially against the backdrop of a mild hurricane, but I was soon in the swing of things. For me, the piece really comes alive during the comedic turns provided by Launcelot and the Prince of Aragon.  Gratiano's performance also deserves a special mention; both funny and engaging, and topped off with a healthy dollop of camp.  Finally, it is to the companies' immense credit that they did not let the frankly frightening weather conditions, or nearby firework display, to impact on their performance. I imagine they will reach even greater heights when the odds are in their favour.
As someone who left Shakespeare at the school gates, I was pleasantly surprised by the experience. I'll definitely seek out more Shakespeare, and you should seek out the Hillbark Hotel for an evening of high drama, young love and dark comedy.
**************************************************************************************************************************************************************************
A review (of sorts) Part II
Posted on June 24, 2013 by Rebecca Sowray
Hillbark Players – The Merchant of Venice
Monday 24th to Saturday 29th June 2013
That feeling of being in a theatre, before it is full or after it is empty, that sense of a place waiting, of action being held back for you is a delight. There is something special about Hillbark Players' Merchant of Venice with its grass for a stage and woodland as a backdrop to painted scenery.
The constructed stage where a few weeks ago there was none, covered seating and not entirely unkind weather adds weight to the creative spell.
A tableau of Venice, of the bustle and confusion, the contrasts between the different factors at work opens the play. It places us in a world at once complex and uneasy. There's a great deal of grace in the offering of this opening.
Shakespeare remains troubling because so rarely does he offer absolute relief. There is so much here, not least the resistance of any temptation to provide a happy ending simply for its own sake.
If you should need a reason to depart the comfort of the house to brave the elements consider Gratiano's delivery of this line:-
"Why should a man, whose blood is warm within, sit like his grandsire cut in alabaster"
The added drama of the wind lost to some convincing delivery by the Hillbark Players.
Portia is compelling: her initially gentle subversion of authority sits happily with her femininity. She offers with conviction the insult to a suitor that his image is: "A proper man's picture."
We are offered quick humour by an accomplished Launcelot Gobbo, the fight between aspects of his personality and cruelty of his wit at his father's expense.
There are cultural references a plenty; the idea of Shylock's "pound of flesh", ancient at the time of Shakespeare's writing and acting as a language worm through popular language and culture references as distant as the television serialisation of V.
The production satisfies our love of spectacle and shocks us with the reminder that in the complexity of both hero and villain there is no absolute; good or evil.
There sense of acceleration as the cast approaches the reveals within the plot is both well-handled and convincing.
The last image the production renders, at once both sad and beautiful, is Jessica receiving the news of Shylock's death.
This is a great production in a fantastic setting and it runs for the remainder of this week.
*************************************************************************************************************************************************************************
Email reviews
Charles,
Just wanted to say a big thanks for Saturday night – the show was superb. Definitely not something I would have considered until you suggested it but I am really glad I went. What a fantastic production. You were brilliant as were quite a few of the cast. Amazing the difference in watching something outside and the effect light, both natural and artificial has as the evening gets darker.
Next time I am going to get someone else to be on call and bring a cooler with wine and snacks! What a fantastic laid back way to watch a show. Yet again it has reminded me I need to go to the theatre more. I know you are taking a bit of a break but please let me know if you are in anything else.

Thanks
Mark Cashin   Deputy Chief Fire Officer
-----------------------------------------------------------------------------------------------------------------------------------------------
Mike,
We were at the Merchant of Venice last Friday night and thoroughly enjoyed it.  Also, the Programme (unlike thode one usually encounters in theatres) was full of very interesting articles and well-worth whatever my wife paid for it.  We look forward to the next production.
Best wishes.
Michael Stephens,  Crosby
-----------------------------------------------------------------------------------------------------------------------------------------------
Mike,
Merchant
It's superb.
Roger Wright,    Vintage radio
-----------------------------------------------------------------------------------------------------------------------------------------------
Audition poster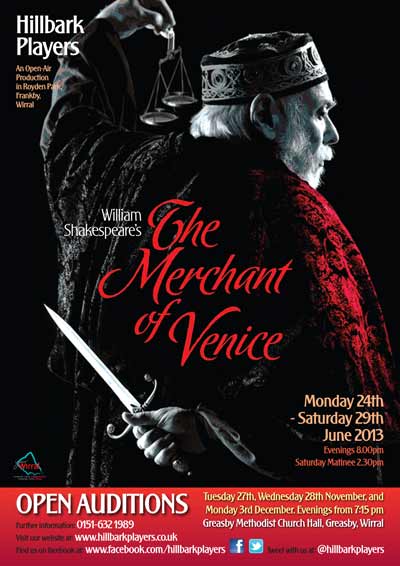 click to enlarge