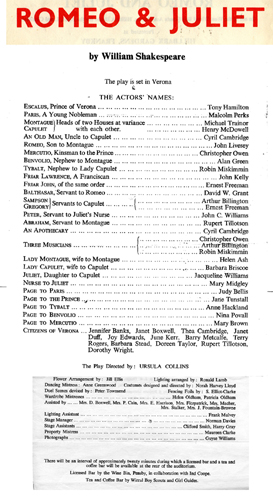 'Romeo and Juliet' was also presented in 1994.
Dates & Location
Monday 26th June - Saturday 3rd July
Evenings at ??pm - Saturday matinee at ??pm

Hillbark Gardens, Frankby, Wirral
( by kind permission of the Hoylake UDC )

Tickets
Booking via Rushworth & Dreaper, Birkenhead and Liverpool and Carefree Travel, Hoylake, West Kirby and Heswall??
Tickets 8/6, 5/6, 3/6
****** Due to illness of Michael Trainor, the part was also played by Michael Harrison
& then David Fleetwood - see press cutting
+++++ Due to injury of Alan Green, the part was also played by Clive Cambridge - see press cutting